Homecoming Sunday - No PM service
Sunday, September 14, 2014
Download: Download Event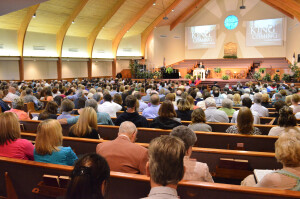 After 39 years of ministry, Parkway Baptist is still moving forward for the glory of God with the missional mandate. Through the years, the ministry of Parkway Baptist has personally spread to places like Grenada, Costa Rica, Haiti, Wales, Dominican Republic, Jamaica, and many places throughout the United States. Partnering with the missionaries and mission agencies, we have been able to be a part of making the nations glad in the goodness of God. In our local community, God has enabled us to engage our culture through mentoring, outreach to the prisons, feeding the homeless, and recently, a new discipleship ministry. The Lord has used the singing, teaching, and preaching ministry to change and transform many lives for the cause of Christ. The College, Youth, and Children's Ministries are BIGGER than they have ever been! Our Golden Agers are active, the music ministry is passionate, and the Sunday School is fervent about our motto: "Changing Lives, ONE Verse At A Time."
Needless to say, Parkway ministries have much to thank God for. He has truly blessed us in so many ways. Volume-after-volume could be written to express our thanks and describe His grace towards us.
Sunday, September 14, 2014, marks our anniversary day of celebration. We will look back to the many ministry mile stones, and look forward with great excitement, as to what God has in store for us in the future. I would like to invite you to come and celebrate with us on this special day. Our choir will be singing, and I will be preaching and challenging you from God's Word. Hope to see you there!
Missional Until He Comes,
Dr. David L. Sampson
Senior Pastor
Psalms 96:3