The Whisnant's in Concert!
Sunday, June 15, 2014, 10:45 AM - 12:00 PM
Location: Parkway Baptist , 65 Stuart Road , Fort Oglethorpe, GA US 30742
Download: Download Event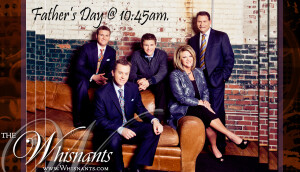 Join us on Father's Day for a great day of Gospel Music with The Whisnants! The concert will begin @ 10:45am and you will not want to miss this wonderful event! So bring your Dad, and celebrate the love of God with your family at Parkway Baptist Temple.
About the Whisnants:
Over the years, many Southern Gospel groups have come and gone. But there is one group that has stood the test of time. Since 1970, this Morganton, North Carolina based group has been singing and ministering through song across the United States and Canada. Jeff Whisnant, owner and manager says, "I have asked God to allow us to be the very best that we can be so that He can use this ministry to touch people's lives. He has done just that!"
The current line-up of Jeff and Susan Whisnant, Aaron Hise and the Whisnant's sons, Austin & Ethan, have a sound that fans, promoters, and churches are raving about.
With 10 #1 Songs and numerous Top 20's, the group continues to see God's handiwork through their ministry. Their song "What You Took From Me" was Singing News Chart Song of the Year for 2003. In 2004, the fans of Southern Gospel Music again awarded the Whisnants Song of the Year with their message of encouragement, "Even in the Valley."
They have been nominated for Trio of the Year 6 times and have received numerous individual nominations, including Favorite Young Artist, Favorite Female Singer and Favorite Alto. For years, the Whisnants have been a mainstay on the National Quartet Convention. They have appeared on the Gospel Music Southern Style Program (INSP Network) on several occasions, and participated in the February 2007 Gaither video taping in Nashville, TN.
As you attend a concert or worship service with the Whisnants, their goal is that the message of their music will be clear and will point people to the Cross of Christ.